---
Hawaiian

Fine Art
Available

Originals
---
---
---
Frequently Asked

Questions
Gallery Locations
Links
Email Page
Patrick Ching Hawaii Artist Profile - Video <!MUST_VIEW_SOURCE_FOR_WWW_coupon>
<!SOCIAL_START> <!SOCIAL_END>



<!#994MultiTitleStart>PATRICK CHING HAWAIIAN ARTIST RELATED LINKS<!#994MultiTitleEnd>

<!#994MultiTableStart><!#994MultiTableEnd>


ABOUT PATRICK CHING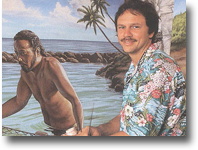 Known as Hawaii's premiere Nature Artist, Ching advanced his talents after college by working "in the field" for the U.S. Fish and Wildlife Service where he spent a good part of his life exploring remote areas of the islands, intimately learning the creatures and places that inspire his work.

The sought after artist has displayed his works of art on the 1986 Hawaiian Telephone Phone Book Cover featuring Haley's Comet, during a one man show in Governor Waihe'e's office in 1987, as well as Hawaii's first Wildlife Conservation Stamp featuring the Hawaii state bird the nene (goose.) A hundred foot mural for the Salt Lake Public Library depicting the artist's favorite historic scenes from the Salt Lake/Moanalua area on the island of Oahu also dons Ching's work.

Known as Hawaii's premiere Nature Artist, Ching has been celebrated as the "feature artist" for various events around the island including the 2008 Haleiwa Arts Festival and the "CELEBRATION of the SEA" Art Miles Murals Project, Hawaii 2008. Additionally, his artwork has been featured in various newspapers and television shows and in several local and national magazines including Wildlife Art News, Audubon, and Birders World. He is also a prolific author of many detailed books on Hawaiian wildlife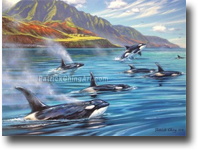 Ching continues to dedicate his life to preserving and capturing the essence of the islands through art by dedicating his time and talents for various outreach programs within the community, including conducting free art classes at local elementary schools. He also conducts regular art classes at private sessions at his famous "Naturally Hawaiian" gallery in the heart of Waimanalo.

Ching's commissioned artwork can be seen the homes of art enthusiasts and collectors around the world.


"I paint the places and things that I love with the colors that have surrounded my life.
My objective is to take the beauty that I have experienced and bring it into people's homes and their lives so that they may appreciate the things that are Naturally Hawaiian."
Patrick Ching

The works of Hawaii artist, Patrick Ching, a reknown nature artist and owner of Patrick Ching Art in Waimanalo, Oahu and Princeville, Kauai.

Ching opened Naturally Hawaiian in 1996 in the ruins of Charlie's Gas Station next to Mel's Market in the heart of Waimanalo. Since then artists, tourists and students interested in taking one of Ching's art classes have found their way to his doorstep to shop for handmade art and share in Waimanalo's famous country atmosphere.

Once inside, even first-time visitors feel right at home. Along the walls and tucked into corners are an assortment of books, ceramic sculptures and paintings - all with a local-kine theme. In addition to his own oil paintings of Hawaiian wildlife and landscapes are koa bowls by Larry Deluz, carved bone fish hooks by Louie the Fish and Hawaiian jewelry by Abbey Wallace designed for local tastes and pocketbooks.

Overall, the gallery has a paniolo flavor thanks to a buckboard display laden with Naturally Hawaiian t-shirts, shelves offering a collection of cowboy hats and a 100-year-old Portuguese saddle draped over a rough-hewn sawhorse.

Among Ching's biggest accomplishments were the 1986 Hawaaian Telephone Phone Book Cover featuring Haley's Comet, a one man show in Governor Waihe'e's office in 1987, Hawaii's first Wildlife Conservation Stamp featuring our state bird the nene (goose) and a hundred foot mural for the Salt Lake Public Library depicting the artist's favorite historic scenes from the Salt Lake/Moanalua area.



ref no:9094

Back | Home>> Directory >>Videos





<!#998MultiTitleStart>RELATED LINKS<!#998MultiTitleEnd>

<!#998MultiTableStart>
About Patrick Ching
Learn more about Patrick Ching. Hawaii's nature artist. Bios, photos, videos and much more. Take a glimpse into his world.
---
Patrick Ching's Art Showroom
View Patrick Ching's Art showroom with links to all of Patrick Ching's art images. Gicle'es, matted prints, originals, books, FAQs and much more.
---

Hawaiian Fine Art For Sale
Learn about and purchase Gicle'e's and Matted Prints. Here you can see all of Patrick Ching's artwork that is available for sale.
---

Original Art For Sale
Original artwork by Patrick Ching is a rare find as he is usually painting for a commission or other project.
---
Books and Gifts For Sale
Patrick has many books and gifts that he has created over the years. Check out Patrick Ching's Books and Gifts page.
---
Hawaii Art Classes and Workshops
If you're ready to take your art to a higher level.
---
<!#998MultiTableEnd>